Having people stuck indoors under the COVID-19 coronavirus pandemic has been a good turn of events for video game stocks as everyone does their best to try to keep entertained.
Among the major league companies, the industry's heavy hitters have just released financial results for the latest quarter, which have resulted in positive stock movement and a similar story has emerged among some smaller-cap companies, as well.
Nintendo Ltd. (OTC: NTDOF) reported late last week that its Q1 2020 profit more than tripled compared to Q4 2019. This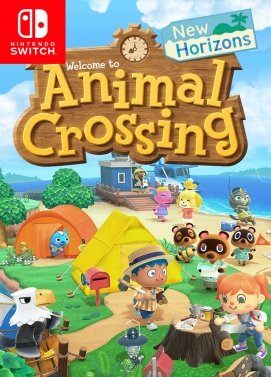 revenue jump was pushed by "the game that everyone is playing" – Animal Crossing: New Horizons, which just sold a record 11.8 million copies for Nintendo's Switch console in March, the biggest game launch in the console's three-year history and #1 game out right now. As of December 31st, 2019, Nintendo had sold 52.4 million Switch consoles.
The iconic gaming giant has a been a good news story for the Japanese stock market. While the benchmark Nikkei had lost 17% this year, NTDOF stock has risen 5%. "The house of Mario" clearly has a mass appeal to capitalize on, but more "mature"-themed offerings saw impressive revenue in Q1 as well ….
Activision Blizzard Inc. (NASDAQ: ATVI), the home of the Call of Duty war game franchise has seen a 22% increase in share value so far this year ($1.52 billion, up from $1.26 billion), compared to a 12% decline seen in the S&P 500, for example.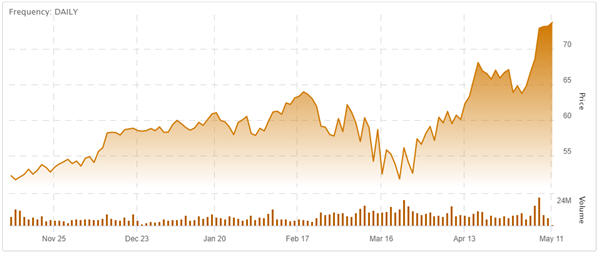 (Activision Blizzard stock chart Oct 2019 – May 2020.)
For those that don't follow games that are family fun or violently entertaining, there's always sports. Burnaby, BC, Canada-based Electronic Arts Inc. (NASDAQ: EA) may have had a few rocky quarters on record, but also scored revenue growth in Q1 2020, on news that its latest offering, Madden NFL 20, saw the highest engagement in the series' decades-long history, while FIFA 20 topped 25 million players. That's the equivalent of everyone in Australia playing the game.
Meanwhile, Sony Corp. (NYSE: SNE) stock has been trying to claw back losses from earlier this year and any news about its forthcoming PlayStation 5 console should intrigue investors, especially given the weight the previous four iterations of the console have historically had. From music to movies, Sony has always had a lot going on.
Any talk of video game sales would be remiss if it didn't include what Microsoft Corp. (NASDAQ: MSFT) was up to. The source of X Box and PC gaming released its fiscal year 2020 third-quarter financial results in late April and stated that its revenues were $35 billion for the quarter, up 15%, while income jumped 22%. It seems clear that the spread of the COVID-19 pandemic had minimal impact on MSFT's revenue, or any of the others, for that matter.
This is a comprehensive snapshot on where console gaming is at financially, moving into Q2 2020, but there's another popular avenue that is generating billions and chances are, you're holding it in your hands right now – the smartphone.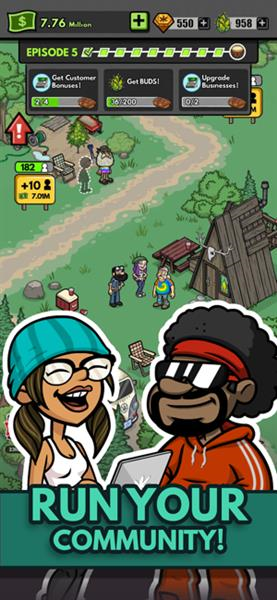 Mobile gaming is forecast to be worth $174 billion by 2021 and small-cap company LEAF Mobile Inc. (TSX-V: LEAF) has a lot going on in this space, as recently covered in a full-length feature by Stockhouse Editorial. LEAF boasts a portfolio of mobile games focused on the counterculture space, with titles that boast lifetime revenue of $60 million from 2011 to 2019, driven by its anchor franchise, Bud Farm.
Blizzard Media reported that an estimated 2.4 billion people worldwide played a mobile game in 2019 and any business involved in producing this form of entertainment is worth taking a second look into to see what they have going on, as this number was sure to increase in 2020 even without taking the coronavirus into account.
Read the full article at stockhouse.com